Awards, Grants, Fellowships and Acknowledgments:
2019 - Working and Dwelling. Solutions for (microentrepreneurs) residents living in informal settlements.
Research selected to be presented during ETH Shareland Doctoral Colloquium (ETH Wohnforum 2019), Zurich, 06 April 2019.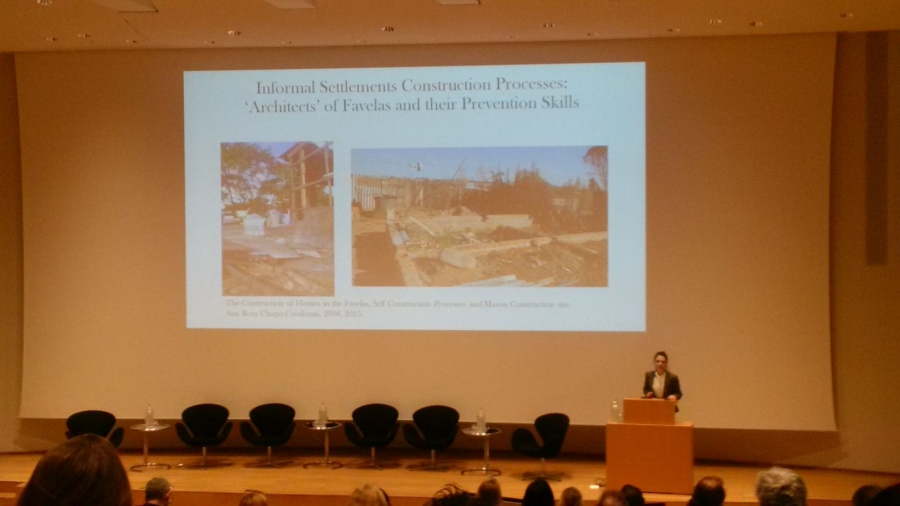 2017 Recipient of a grant for young schollars researching in the field of emergencial settlements. Herrenhausen Conference Dangerous Landscapes. Volkswagen Foundation.
2015 Recipient of a fellowship 'Author Meet Critics'. International Journal of Urban and Regional Research/ IJJUR.
2015 Recipient of a fellowship 'Wonhungsfrage Academy'. Columbia Buel Centre and Haus der Kulturen der Welt.
2013 Recipient of a 'Ph.D. Scholarship'. Ministry of Brazilian Education and CAPES. Project Title: Slums shaped by Labour
2012 Recipient of the First Prize in the International Competition 72 Urban Hours Action (focused on Participatory Planning and Self Construction). Terni, Italy.
'OPERA PRIMA nominee' (Prize for Best Graduation Research on Architecture in Brazil).OPERA PRIMA.
2014 Ideator, Builder, and Designer of Pop up Passage, a collaborative space built with donated materials and collaborative efforts. Maceió, Alagoas, Brazil, 2014.
2014 Ideator of Transcripts of Everyday Life in the Favela. University College of London (UCL Urban Lab) "Cities Methodologies 2014". London, 2014.
2016 Ideator of Work Manifesto: Architecture in the Informal Settlement, University of Waterloo. Canada, 2016.
2015 Ideator of Favela Drift, presented at Biennial of Public Spaces 2015. Italy, 2015.
2017 - Co organizer of the event "Southopolis", played at the Het Niewe Institut, Roterdam, the Netherlands.
2017 - Co organizer at the event "Southopolis" Presented and Played at the Het Schip Museum.20 June 2017.